OVERVIEW
Organization: Research Center for Gastroenterology and Liver Diseases, Tehran, Iran
ISSN: e: 1735-3408 | p: 1735-143X
Frequency: Monthly
Mohammad Reza Ghadir, Seyed Saeed Sarkeshikian , Ahmad Hormati, Faezeh Alemi, Pezhman Alavinejad, et al.
Research Article | 19 | 10.5812/hepatmon.92342 |
Hepatitis Monthly:
Nov 2019, 19 (11), 2 articles.
Journal Features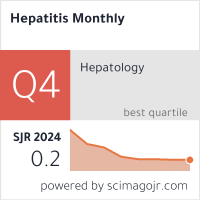 If you have any question contact us
Submit a Ticket:
---
Newsletter
Stay in touch and be informed about our special discount offers and educational letter from Kowsar.